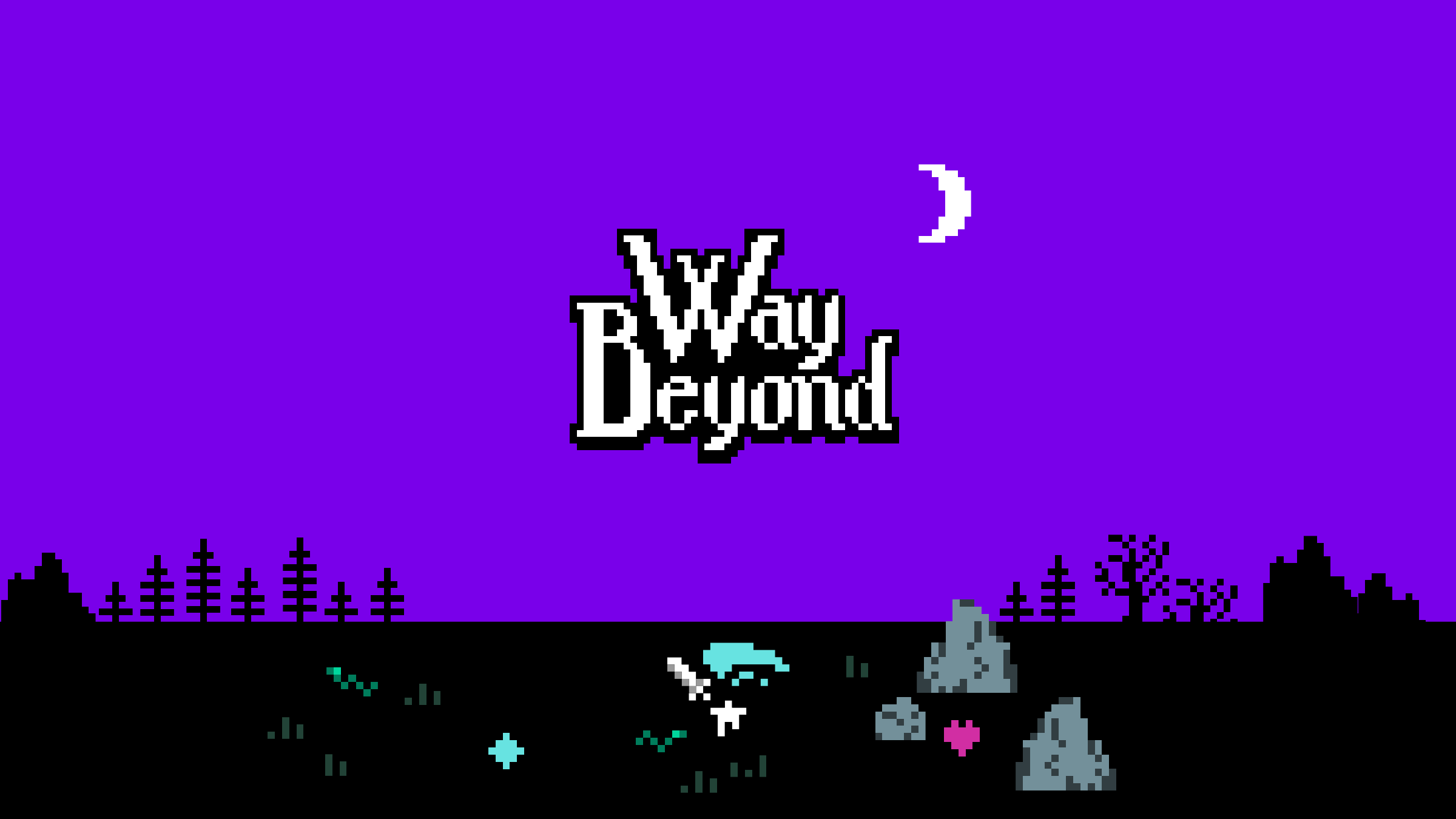 Way Beyond
A downloadable game for Windows, macOS, and Linux
Procedural open world ARPG/roguelite
Free download
Download Alpha 1 below and leave a comment
Gameplay is highly incomplete. All feedback is much welcome, especially regarding controls, usability, and gamefeel.

For occasional behind the scenes posts, follow me @hellobalint on Twitter, or read the Way Beyond dev log on TIGsource.

Controls
Arrow keys for movement
X key for action
1-2-3 number keys or C key to switch tools
P key to change player character color (no effect on gameplay)
Ctrl-Q or Cmd-Q to quit (no saving yet, sorry)
You can set up a controller in the Configuration window's Input tab.

Alpha 1 features
Procedurally generated, endless overworld
11 biomes
5 enemies and basic combat
Collectible gems as a rudimentary high score mechanic
Health pickups
3 tools to hack and slash with (sword, hatchet, pickaxe)
Destructible environment
Basic sounds
Known issues
Tools sometimes get stuck when repeatedly pressing the action key/button fast
Performance might degrade over time
Sometimes enemies try to leave visible world chunks and get killed off-screen to avoid further issues
In rare cases some enemies and items disappear as you approach them
Major planned features
Multilevel dungeons & caves (Alpha 2, late 2018)
Magical artifacts
A variety of enemies with different attack patterns
Procedural, context-dependent music
Game saves
This game is in a very early stage. I've been working on it since 2016 but I've mostly been tackling technical things, and creating a framework for all the content I have planned. In its current state the game is fairly shallow, more a proof of concept than anything, but I now have a solid base to build more mechanics on. I'm working on the game by myself alongside a full-time (non-gamedev) job.

The exact end result I want to achieve is still very much in planning — the things I'm most decided on in the game are the kinds of emotions I want to evoke in players. Wonder, excitement, the sense of exploring an unknown world, gaining more confidence as you journey through a varied landscape. The rest will unfold as I go.

I intend to keep the game free as long as it's in alpha — foreseeably, a year or two at the very least. Donations welcome!

PS: Yes, there's a way to get rid of ghosts. 👻
| | |
| --- | --- |
| Published | Dec 30, 2017 |
| Status | In development |
| Platforms | Windows, macOS, Linux |
| Rating | |
| Author | Bálint Magyar |
| Genre | Action |
| Made with | Unity, GIMP |
| Tags | 8-Bit, Action RPG, arpg, Endless, infinite, Open World, Procedural Generation, Roguelike, Roguelite, Top-Down |
| Average session | About a half-hour |
| Inputs | Keyboard, Xbox controller, Gamepad (any) |
| Accessibility | Configurable controls, Textless |
| Links | Blog, Twitter, Homepage |
Comments
Log in with itch.io to leave a comment.
This has massive potential, I would love to see more different randomly spawning things, like shrines and chests.
This game looks amazing, I hope you continue working on it :)
Hello, Bálint! Thank you for the game. I've made a review of the Way Beyond and talked about procedural generation in general. It's in Russian, but I thought that it'd be important for you as the creator to know that it exists, anyway
:)
Record is 83. Can't wait to see where this game goes.
I'd like to see where this goes. Good jobs so far.
very nice concept what is it made with?
With love I guess :'P <3 (Made in Unity)
hey friend I loved your game, I see good potential to jugeo
I'm loving it so much! The terrain generation is really cool! So much potential! Really good job! <3
I really like the concept! I think the action mechanic would work better if bound to WASD while movement is UDLR (simmilar to Binding of Issac) or being mouse based so attacking can happen at any angle, rather than just 0,90,180,270. as it currently stands you have to be facing the enemy but also not walking forward into them, enabling attacking from a different direction than the direction you're walking in makes for more complex combat (you can attack while running away, circle around enemys while attacking to trap them etc)
You did a great job so far! i'll be keeping up with development :)
This game has high potential, love every bit of it so far, Good luck! <3